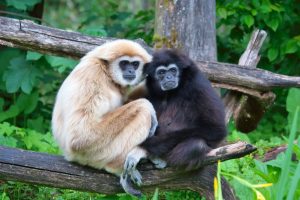 Scientific name: Hylobates lar
Conservation status:

Life expectancy: 25-30 years
Gestation period: 180 days
Subspecies:
Malaysian lar gibbon
Carpenter's lar gibbon
Central lar gibbon
Sumatran lar gibbon
Yunnan lar gibbon
Lifestyle and Location:
These gibbons are frugivorous lesser apes with fruit being 50% of their diet like figs and berries, 29% of their diet is leaves, 13% is insects and about 9% is flowers. They live in Indonesia, Laos, Malaysia, Myanmar and Thailand. Around 1/4 of their day is resting, 1/3 is feeding and only 1/10 of their day is socialising.
Appearance:
Varies from black and dark-brown to light-brown. They are all sandy kind of colours with white coloured hands and a white ring around their black fur-less faces (males and females both have all colour variations). They are around 45-50 cm and the males are slightly heavier with an average of 5.7 kg than the females who are an average of 5.3 kg.
Joss's Facts
The majority of gibbons fracture or break bones at one point in their lives due to misjudging jumps and branches snapping.

Can jump up to 40 feet!

They can catch birds mid flight and also change direction mid jump.

They are the fastest living primate that can wing through the canopy at a top speed of 35 mph.

All gibbons have a 'wrist and ball socket joint' meaning they can rotate the full way round. This is to help them swing through the trees faster than any other.